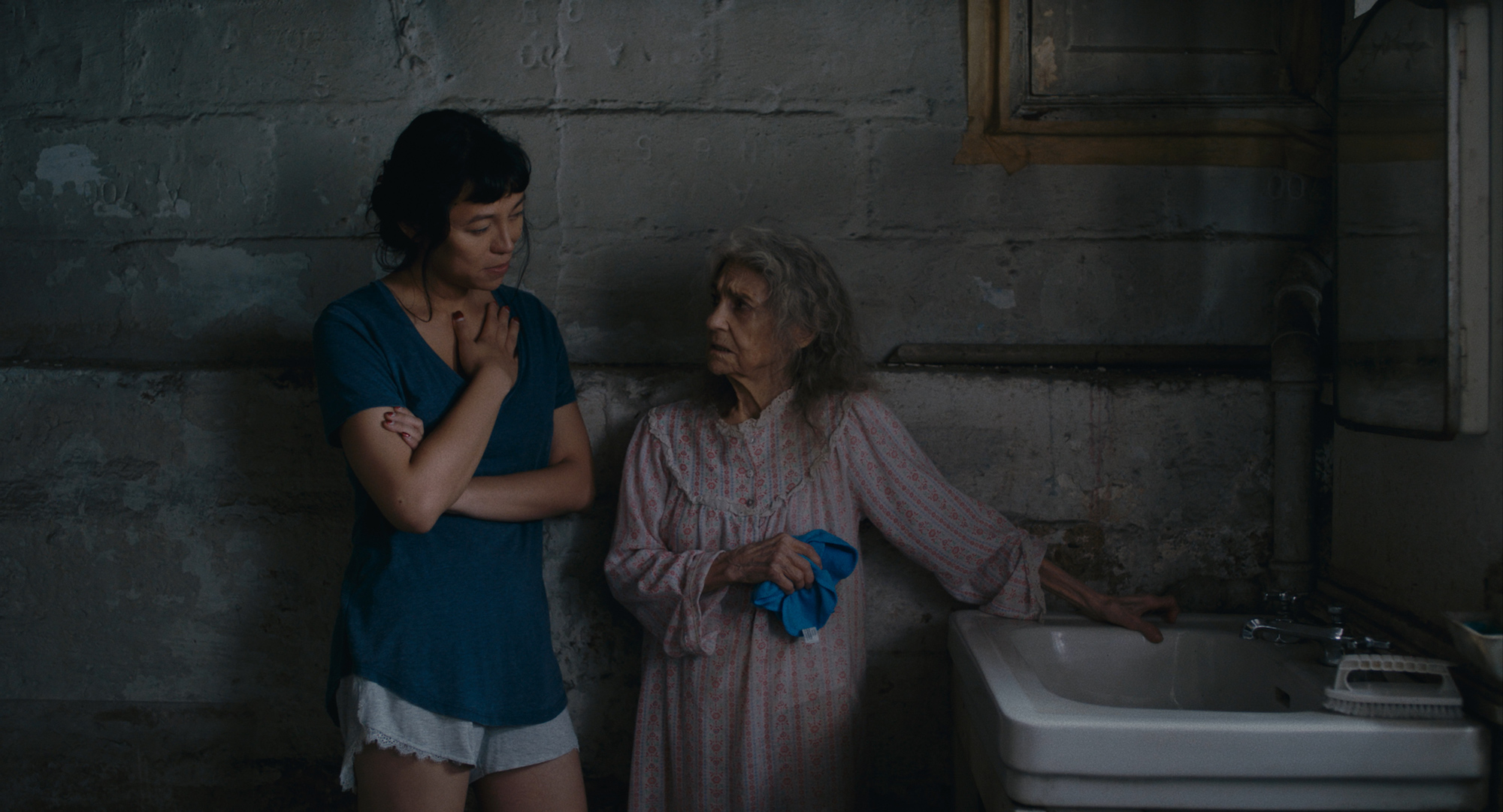 Isabel Sandoval plays Olivia, a caregiver to Olga played by Lynn Cohen.
Filipino director and actress Isabel Sandoval paints the portrait of freedom, inspired by her own journey as a transgender migrant in Donald Trump's America.
Alongside filmmakers Lav Diaz and Brillante Mendoza, Sandoval is among a new breed of filmmakers who are committed witnesses to the traumas of Filipino society. Her minimalist aesthetic—at the crossroads of migration and gender issues—is undoubtedly informed by filmmaking that came out of the Martial Law era in the Philippines. Lingua Franca (2019) draws heavily from Lino Brocka's Insiang, which similarly explores representations of urban poverty and themes of betrayal and despair. Born in 1982 in Cebu City, Sandoval now lives in Brooklyn where she shot Lingua Franca. She wrote the script, edited it and played the main role: like Olivia, Sandoval made the transition from masculine to feminine about eleven years ago while shooting her first feature film, Señorita (2011).
Olivia works as a caregiver to Olga (Lynn Cohen), an elderly Russian Ashkenazi residing in Brighton Beach. To gain immigration papers, she tries to raise the money necessary for an arranged marriage with an American. The man will ultimately give up on the plan, having met another girl with whom he falls in love. It is during telephone conversations between Olivia and her mother in the Philippines that we discover her frustrations not only in finding a groom to sponsor her green card, but also the heavy burden of having to constantly remit money to her family back in the Philippines. Most of the story unfolds in her furtive encounters (in a Catholic church) with her childhood friend from the Philippines, who also lives in New York: Trixie (Ivory Aquino) who has managed to get married.
There is a sensitivity and a sensuality in how Sandoval filmed Olivia going about her caregiver duties. We watch her folding the laundry, taking care of Olga; these sequences are a discreet homage to Chantal Akerman's film, Jeanne Dielman, 23, quai du commerce, 1080 Bruxelles (1975), about a housewife who prostitutes herself amidst the tedium of women's work. Olivia, like Akerman's heroine, wants to live her life and her sexuality, and the filmmaker captures the quotidian realities of her unfulfilled desires.
This fragile monotony is interrupted when Olga's grandson, Alex (Eamon Farren), a handsome boy with a reputation as a loser, is back in the family. Olivia and Alex fall in love, but Olivia doesn't say a word about her transition. Silence seems to be the best ally of these two lovers with battered lives, until the day when Alex learns that Olivia is a transgender woman, through a malicious wrestling buddy who steals her money. Somehow he feels betrayed.
Worried and always on the lookout, Olivia occupies very little public space. The camera captures her penchant to wait on the elevated train platform, walking along its elegant metallic structures. She belongs only in such spaces of transition while Alex is mostly captured in the slaughterhouse where he works (Brocka's Insiang similarly opens in one), and in drinking binges with friends.
Eamon Farren embodies a man without great qualities, who tries to redeem himself for good behavior but relapses in a somewhat predictable way (he drinks too much, lacks vigilance at work). While Olivia is paralyzed by fear amidst the crackdown on undocumented aliens in the United States, he plays with her fears and strings her along with an incredible story about ICE agents stealing her possessions. More than fiction, it is the "documentary" material and purpose of Lingua Franca that provides the film's finest moments.